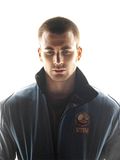 Still not doing the best lately thanks to that guy from work... I did for some reason start thinking about my childhood and such last night, which was actually not as depressing as I thought it would be, although I have a terrible memory and can't remember much anyway. I have quite a bit to do today but can't realy be bothered, it's too cold and I'm too tired... I'm also slightly freaked out by all the crickets, the house is infested with them, I'm getting somebody out to spray or whatever for them next week...
A heads-up for anyone with a Rapidshare Premium account, go to the news page and read about the changes happening next month. Basically lots of limits and it will cost more. I've already got a premium Hotfile account, so after my Rapidshare account expires I'll probably not bother with them anymore. Seems like lots of people are leaving.
For pictures today, just a few, of Chris Evans. Enjoy.
Chris Evans